Our experience
31 years of humanitarian work
Our commitment to you
Use of your donation in 2021, thanks to our patron's support
0.18% Fundraising
99.82% Humanitarian aid
Our goal : allocate the most of your donation to our actions in the field.
Find out more about it
News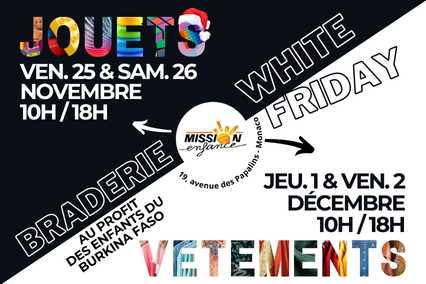 Jumble sales
CHRISTMAS SALE
4 DAYS CHRISTMAS CHARITY SALE: 1️⃣ TOYS/DECORATIONS/BOOKS: NOVEMBER FRI. 25th & SAT. 26th FROM 10AM TO 6PM 2️⃣ CLOTHES/ SHOES/LAUNDRY: DECEMBER THU. 1st & FRI. 2nd FROM 10AM TO 6PM
See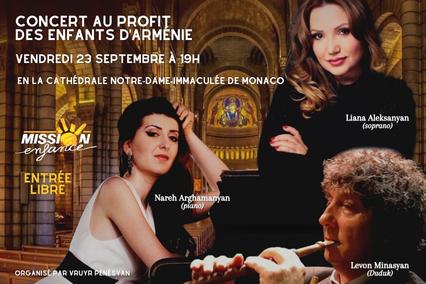 Events
09.23.22 Concert for the children of Armenia
Concert for the benefit of Mission Enfance
Friday September 23rd 2022
at 7pm
FREE ENTRANCE
ALL DONATIONS RAISED DURING THE CONCERT OF SEPTEMBER 23RD
WILL BE ASSIGNED SOLELY TO THE CHILDREN OF ARMENIA.
See
31 years of International Solidarity and 1.500.000 children in distress rescued throughout the world
Mission Enfance, Organisation of International Solidarity, created in 1991, in France and in the Principality of Monaco, to "rescue children in distress around the world".
To find out more about it